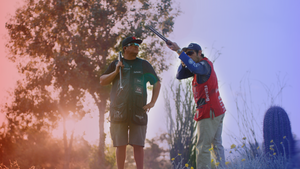 Trap/Skeet/Sporting Clays Instruction
The most comprehensive clay target shooting DVDs created to date. Over 8 hours of instruction between three-time National Champion Zachary Kienbaum and World Champion Anthony I. Matarese Jr.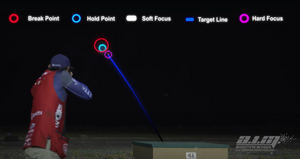 Zachary Kienbaum
Three-time national sporting clays champion Zachary Kienbaum started shooting sporting clays in 1990. After a successful junior career, he took a few years off before returning to the sport in 2005. In 2007, he began coaching full-time.
Born in California, Zach moved to Texas for nearly 10 years to broaden his shooting experience. He now lives in Savannah, Georgia, in the middle of one of the nation's fastest-growing clay shooting regions. He has won three National Sporting Clays Association Championships (2018, 2019, and 2022), is a 28-time All-American, a 10-time captain of the NSCA All-American First Team, and has represented his country 24 times as a member of Team USA. In 2022, he was inducted into the NSCA Hall of Fame.
Zach continues to teach shooting across the United States and coaches many of today's top competitors. He has a true passion for competing, as well as helping others.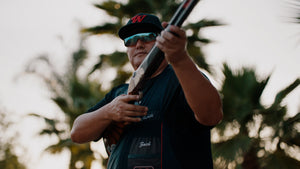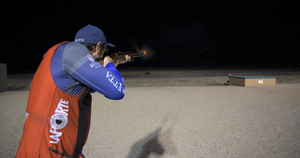 Anthony I. Matarese Jr.
Anthony I. Matarese Jr. of Pennsville, New Jersey, is the most accomplished shooter in U.S. sporting clays history. He is the first American to win the World English Sporting Championship (2016), and also has a national championship (2008) and three U.S. Open titles (2008, 2012, 2021) on his illustrious resume. He is the youngest inductee to the National Sporting Clays Association's Hall of Fame. 
Testimonials
The content and cinematography in tandem make for one of the best sets of instructional videos to ever be released on the topic of sporting clays.

Dominic Gross, Shotgun Sports Magazine
It's an excellent product (the best I have owned) and you should be proud of it. It will joyfully fill a lot of hours I will now not be able to shoot during the recent unpleasantness.

Arik Paraschos
(A)n unprecedented look inside the
mind and tactics of one of the most
accomplished shooters in
American sporting clays history."

Kerry Luft, ClayShootingUSA
Whether you are just getting into this (like me) or a Master class shooter, I think there is something for everyone here and really excited to see whats in the advanced video, too.

Andrew Allyn
The illustrations, graphics and your explanations make, what would be tough concepts, easy to understand and visualize.

Shaun A. Henry